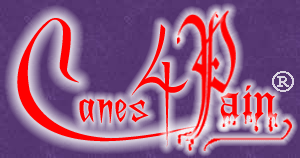 by WhypDancer

---
The Specials Page
Get them while they last!

August 16, 2017: I am expanding my Birthday giveaway! Order anything on the site, and I will send a special, free cane with your order! And I extended it past my birthday- it will end just after Labor Day weekend. This is to celebrate our birthdays & thank you you for brightening my days with your smiles, stories, photos, support and encouragement! To receive your free cane, there is no special button to push, no minimum purchase, no fuss, no muss. Just many thanks!
---
The NEW Fusion Sets!
This set has a great selection of canes! It will give you a very wide range of sensations!
The set comes with a 7mm, 9mm, 11mm and one of our very popular Bamboo Birch Rods, in your choice of Lipstick Red or Purple. These are all full-sized canes, ranging in lengths from 24" for the Birch Rod, to 28-36" for the straight canes.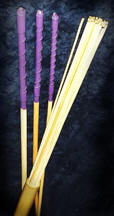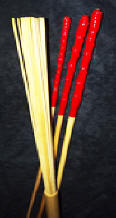 The Birch Rod gives a lot of sting, but don't damage the skin, and has approximately 50 lashes. With the inluded rubber band near the tips, it is an exquisite thud, perfect for massage or warming the skin. Wound down, this has a lot of sting. It is a VERY versatile and much-loved implement. The 7mm cane can be a stinging little bastard, depending on how it is used. It can be used pretty much anywhere on the body, without doing damage. It gives a lot of sting and can make lovely raised welts. The 9mm is the *classic* rattan cane size, in my opinion! They have a luscious combination of sting and burn. the 11mm cane is more "serious" with more impact on delivery. They are dense and quite nasty when used with finesse. Both the 9 and 11mm will make stripes very nicely.
---
Canes4pain.com Gift Certificates
Click on the amount you'd like below, to order them. They can be combined to make any amount.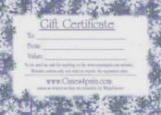 Gift Certificates can be combined!
---
Questions? Contact me at WhypDancer@canes4pain.com
---