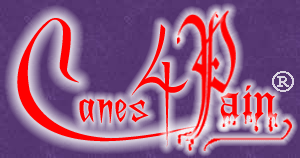 by WhypDancer


---
Royal Pains (in the Butt) :



All canes in the Royal Pains Collection are excellent for beginners, or those wanting to create or expand their cane collection with high quality, moderately priced, evil additions. The canes here in the Royal Pains Collection are between 26 & 33" long, oiled, sanded, & decorated by hand.



Canes4pain®... as wicked as they are beautiful.
All Canes4pain® rattan canes hold a lifetime guarantee against breakage, no matter where they appear on the Canes4pain.com website. And now, it is easy to shop with your


MasterCard, Visa, American Express, or Discover using the secure shopping cart system.



Gift Certificates are now available on




the Specials page of Canes4pain®.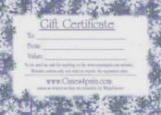 ---
efefefefef

**NEW**


The Fusion Set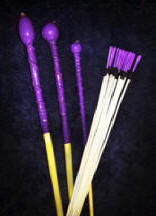 This set has a great selection of canes! It will give you a very wide range of sensations!
The set comes with a 7mm, 9mm, 10.5mm and a 15-Lash Rattan Birch Rod that all match, in your choice of Lipstick Red, Purple, or Pink.

These are all full-sized canes, ranging in lengths from 24" for the Rattan Birch Rod, to 26-32" for the matching straight canes.

The Rattan Birch Rods give a lot of sting, but don't damage the skin. They will leave welts and are great to lay some sting on any part of the body! the 7mm cane can be a stinging little bastard, depending on how it is used. The 9mm is the *classic* rattan cane size, in my opinion! They have a luscious combination of breath-taking sting and burn. the 10.5mm cane is a bit more "serious" with more impact on delivery. Both the 9 and 10.5mm will make stripes very nicely.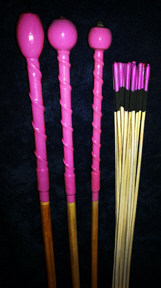 efefefefef
**NEW!**
Sting Sets!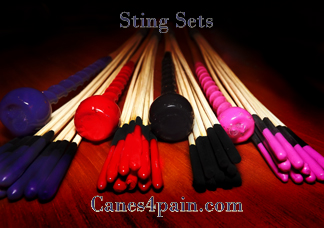 These are perfect for those new to canes & people who want a way to sting & welt without the bruising & damage of a larger cane. In your choice of four colors (black, purple, red, pink), the cane is 1/4" thick, and 21" long. The matching Rattan Birch Rod has nine rattan lashes with colored tips, a comfortable handle, and is 18" long.
Both items in the 2014 Sting Set are compact, accurate in "flight" and easy to use. They can be used pretty much anywhere on the body because they don't penetrate deeply or bruise.

Being the most gentle canes I make, they are NOT for producing intense stripes and bruising.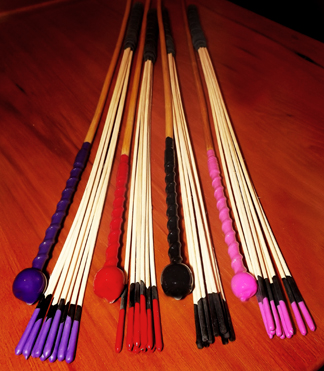 ---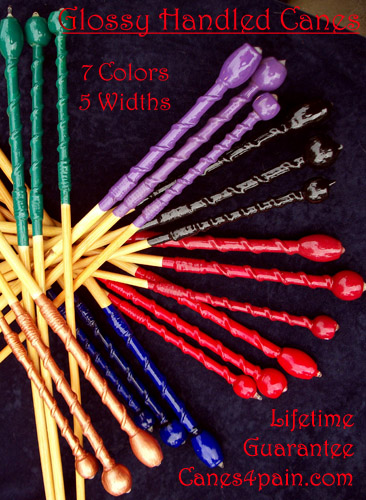 Now available in eight colors!
The textured handle of the Glossy Canes gives a sure grip, and the high gloss coating makes these insertable handles easy to clean with your favorite cleaning products.
A new color- PINK- has been added.
Glossy Handled Canes
Now available in eight colors, with three thicknesses in each. Also available are matching Multi-Strand Rattan Birch Rods & extra large canes- 13 & 16mm thick!

If you are new to canes, I advise starting out with two or three canes of different thicknesses so you be able to get a wide range of sensations. The different thicknesses of canes give very different feels in regard to sting or thud, and the ability to welt and bruise varies too. Usually, the thinner the cane, the more sting. The thicker canes are more on the thuddy side.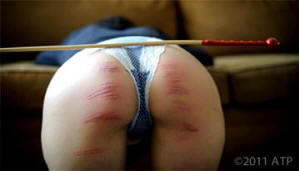 9mm Red Glossy Canes and the classic cane stripes that a 9mm will create.
I feel that 9mm canes have the perfect combination of sting & burn!


**NEW** PINK Glossy Handled Canes!
With the drop-down boxes below, please choose your desired width, and color- red, black, purple, hunter green, burgundy, royal blue, pink or copper. Feel free to also give me guidance whether you prefer a cane better for purple stripes, or one that is better for pinky/red stripes or welts. These are of moderate length with most 7mm canes around 26" long, and 9-10.5 falling between 28 and 33 inches long.
If you need them shorter for travel, etc, no problem- email me your request.
Your choice of three widths, in each of eight colors!
Black, Red, Purple, Royal Blue, Pink, Burgundy, Hunter Green, Copper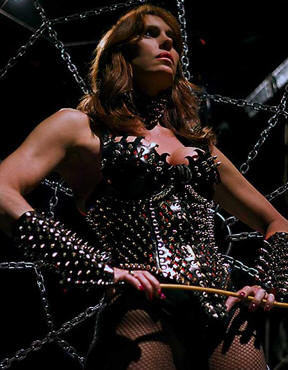 Goddess Phoenix of Atlanta with a 9mm Black Glossy Cane in the DomCon Atlanta dungeon at Club 1763
___________________________

Canes4pain® in the Butt Set
for many
y
ears of enjoyment.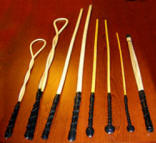 This cane set includes one of each (from left)
in your choice of 5 colors. All are available separately on this page.
9mm Twisted Loopy Cane (5/16" thick x 24")
10.5mm Twisted Loopy Cane (3/8" x 35")
13mm Straight Cane (1/2"x42")
16mm Straight Cane (3/4"x 44")
10.5mm Straight Cane (3/8" thick, length 30-35")
9mm Straight Cane (5/16"x 29-33")
7mm Straight Cane (1/4"x 26-30")
20 Lash Rattan Birch Rod (23-25" long)
These are the color choices for the Canes4pain® in the Butt Collection:



In order, from left: Black, Red, Purple
(other colors available by special request)
---
13mm (1/2"+) x 42"
(pictured above in Set)
Available in Black, Red, Purple, Royal Blue
(other colors available by request)

--------------------------------------------
---
Twisted Loopy Canes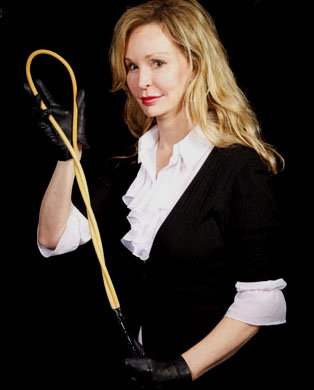 Mistress Ella Strictland & her 9mm Twisted Loopy Cane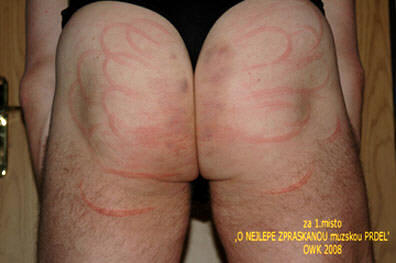 Above, Our Twisted Loopy Canes, in the hands of Lady Charlotte of The Netherlands, were used to make the flower design that won first place in the 2009 OWK Best Whipped Ass Competition!





Twisted Loopy Canes will add fun to your life.
Long enough to retain the flexibility of a cane, they are great for "painting" bottoms with flower designs, butterflies, and smiley faces on various areas of the body. They feel like getting hit by two canes at once.

---
Rattan Butt Beater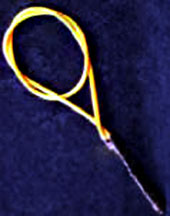 A ton of sting packed into an
easy-to-transport beater!
The feel of these is surprisingly intense! It has the sting of a 7mm rattan cane, but with more intensity because of the added weight caused by the twisted design. They are compact and easy to carry in a purse or toy bag.
These Rattan Butt Beaters are a compact 14" long, and the "face" is approximately 5"x6", making them perfect for up close and personal work.
Guaranteed to get an "ouch"!
---
---
Rattan Birch Rods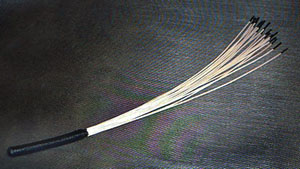 These multiple-strand canes are like numerous thin, whippy stinging canes, all hitting at once. They are the great for lovers of sting- especially on those delicate body parts.
When swung, the rattan lashes spread, making the most lovely patterns of red stripes. They do not inflict *deep* welts... it is more like surface welts, and thin red stripes and little dots where the tips dig in. Even though the "damage" is not deep, these thin canes have a ton of sting! They really give a wide range of feelings, from a soft percussive massage, to sting, and burn, and even thud if you keep them tied together at the tips. Almost everybody is delighted with these.
They do need some special care, just like Birch Rods used for punishment in the schools of olden days, they need to be soaked in water for 30 minutes before use, **if you are using them hard**. This makes them very flexible and protects the tips. It also adds more weight and and even more sting to the strike.
When wet, the little bit of water on the skin (because of the lashes being moist from the soak) feels chilled when the air from the next strike hits it, like when you softly blow on moist skin. Then the lashes hit the skin, which stings and burns. Combined with the coolness of the water, it gives a very unique, contrasting feel between hot and cold, pain and pleasure, and well, you get the idea...
All are nice and whippy, and approximately 23 inches long. All rattan lashes within the Birch Rod are the same length, so they fan out nicely right before they bite.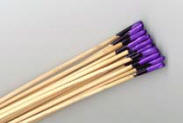 Fifteen lashes, tipped with two layers of black, then purple or red.

These perfectly compliment the Glossy Canes above.



Rattan Birch Rod, 15 Lash: $55.00






This is the handle style for all but the Black and Blue 30 Lash.
---
20 Lash Black Rattan Birch Rod
Twenty tips for lots of sting and burn, finished with a black, rubber/latex coating, which also coats the handle for a good grip.


Black Rattan Birch Rod, 20 Lash: $45.00
birch20



Handle style for 15 & 20 Lash Rattan Birch Rod
s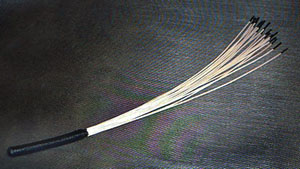 ---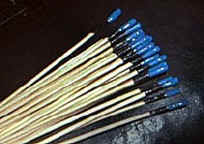 This very popular design has 30 lashes dipped twice in black, and finished with a layer of blue, for a great Black and Blue effect. The handle is all black. Some people say the tips look like matchsticks.. but matchsticks don't sting like this!


Black & Blue 30 Lash Rattan Birch Rod: $65.00

birch30
---
---
Questions? Contact me at WhypDancer@Canes4pain.com
or whypdancer@aol.com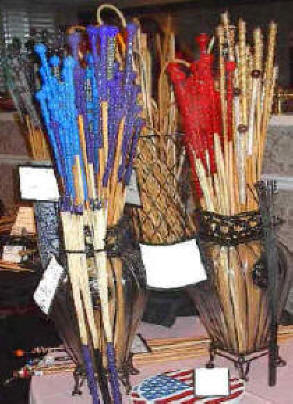 Vending display at Shadow Lane party in Palm Springs, CA.