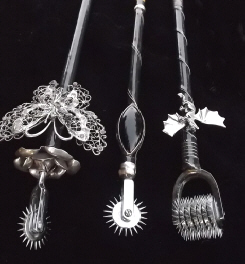 ---
Gift Certificates are available!!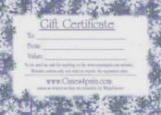 The Canes4pain® gift certificates have a lovely silvery metallic design, and are available on the
Specials
page
.
---
---
Ocean Dream


The Ocean Dream Cane is as wicked as it is beautiful! The nine-inch handle on this very dense 10mm x 32" rattan cane is accented by Lapis Lazuli gemstones set in, and accented with a lot of sterling silver.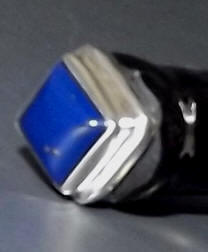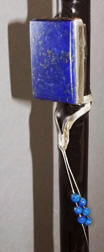 The Ocean Dream Cane's rectangular stone measures over one inch tall by three-quarters of an inch wide. It is set in a polished 3/16" high sterling silver setting. The top of the handle is finished with a 3/8" square lapis stone set in a polished 1/4" tall sterling silver setting.
The handle has sets of 1/8" round Lapis Lazuli spheres on sterling silver wire, and will give a very comfortable, sure grip when in use.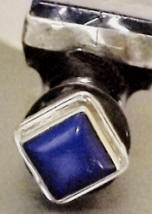 This cane is very dense, which translates to very nasty, if used that way.




---
Thundering Tiger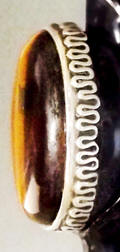 The Thundering Tiger Cane is another wickedly dense 10mm rattan bastard. Its nine-inch handle is accented by an oval shaped 1.25"x.75" Tiger's Eye in a sterling silver setting that has raised wave detailing. The setting is 1/4" high.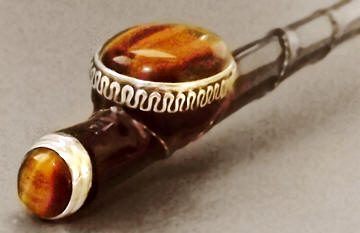 The Tiger's Eye stone at the top of this cane compliments the other stone perfectly, due to its color, shape and the movement of the stone's golden-colored fibres when its angle to the light changes. It measures 3/8" x 1/4" and is set in polished, gleaming sterling silver.

This cane is 31" long and has a twisted sterling silver wrapping its way up the handle. This silver is slightly raised, and its twisted texture will give a nice, sure grip.

Thundering Tiger: $205
---

Moonshine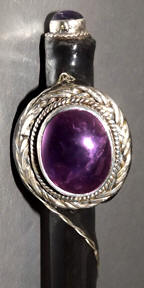 This dense 9mm rattan cane is 32" long.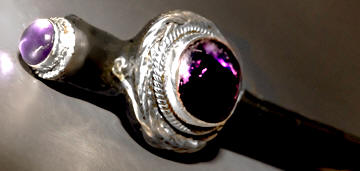 The handle of this beautiful cane is accented by a dark purple Amethyst gemstone set in very detailed, decorative sterling silver. The stone itself is a 3/4"x1/2" oval. The sterling silver setting for it is 1/4" tall, and at least 1/4" wide. It adds a great detail to the stone.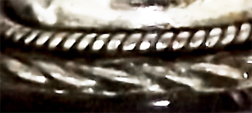 The 8.75" long handle is topped by a round amethyst gemstone set in sterling silver, and there is another at the base of the handle, which forms a nice thumb rest with the 3/16" sterling silver collar. There is a twisted piece of sterling silver winding its way down the handle, and it gives a nicely textured grip for the user's hand.

---

Green Meadows



This 30" long, 9mm thick rattan cane has a 9.5" handle. The cane's owner will love the feel of the twisted sterling silver winding around the handle. It is topped by a gleaming sterling silver dome that will catch the light beautifully wherever it is used.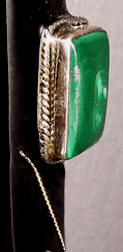 The stone at the top of this cane is a beautiful green Malachite. It is a 5/8" x 7/8".

The base of this handle has a sterling silver thumb rest with a zig-zag pattern.

Green Meadows: $190
---

Kinky Tiger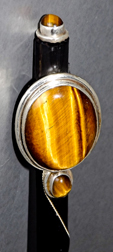 This wicked 11mm rattan cane is designed with three beautiful oval Tiger's Eye stones, all set in sterling silver. The largest is a wide 1" x 1.25" . The two smaller accent stones are 3/8" x 1/4". All have polished sterling silver settings that are 1/4" tall.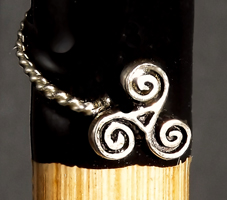 More sterling silver winds its way down the 8.5" handle, and ends at a sterling silver triskele ( also known as a triskelion ), which was adopted at the symbol of BDSM years ago. That piece is 1/4" x 1/4".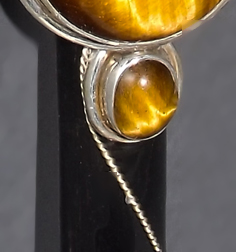 This fine rattan cane is 31" long and will make quite an impact whenever it is used.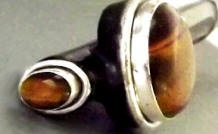 Kinky Tiger: $205
---

Mesperyian

Mesperyian was a fictional Goddess of torture & punishment. This cane certainly has the ability to live up to its name, with the wartenburg pinwheel top, and excruciatingly wonderful 10mm rattan cane below.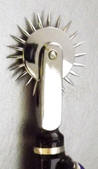 The wartenburg wheel stands 1.5" above the beautiful dark purple Amethyst Gemstone near the top of this cane's 10" handle. That Amethyst is a 1"x3/4" oval. The cane is 30" of stinging, burning rattan.



There are two more oval shaped Amethyst gemstones at the thumb rest portion of the handle. They are a lighter shade of purple than the main stone and are 3/8"x1/4". They have sterling silver chain details surrounding them and a very decorative sterling silver band joining them around the handle.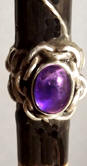 Mesperyian: $245
---

Ocean Waves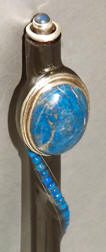 This 30" long rattan cane is designed using a lot of Lapis Lazuli

and highly polished stering silver. It is a dense, burning 9.5mm thick, and would be happy to make stripes if called upon to do that.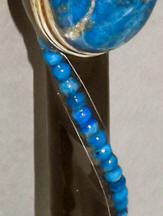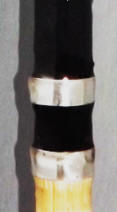 There are over 50 round Lapis Lazuli beads winding their way around this cane's 8.5" handle. They are surrounded on either side by sterling silver, and there are two 3/16" sterling silver collars at the base of the handle. The larger stone near the handle's top has a nice vein of pyrite (fool's gold). All the stones are a beautiful, rich azure blue color.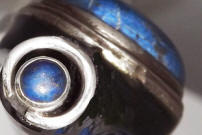 The Lapis Lazuli stone at the top of the handle

is 1/8" round and is set in a C-shaped sterling silver setting.



Ocean Waves: $215
---

Elegance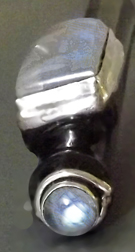 This 32" long, 9.5mm cane is ready to lay down some burning red stripes. Its 9.5" handle is accented by gleaming, polished sterling silver, and lovely rainbow moonstones.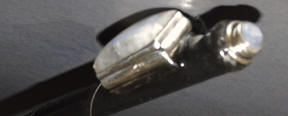 The large stone measures 1.25"x1/2" and has a beautiful blue color that moves as the cane's angle to the light changes. The rattan cane is topped by a round 1/4" rainbow moonstone set in a C-shaped sterling silver setting.



There is a 3/16" sterling silver collar at the bose of the handle, and even more sterling silver winding around the handle to give you a nice, sure grip.


Elegance: $170



---
Sanibel Beach Canes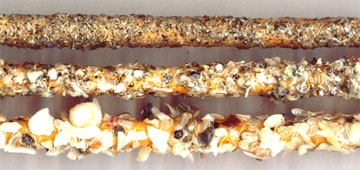 Canes4pain's Sanibel Beach Canes are built on a 9mm aluminum core. Each is 30" long. I am working on new photos for these. They have a much thicker, nicer layer of sand or shell fragments than is shown above.

The first cane is covered in sand. The next is covered in small shell fragments. The third version is covered in more coarse, sharp shell fragments. The latter two will break skin easily. You've been warned. They are all thuddy, but sharp. It is an interesting sensation.

All are covered with a clear protective coating that allows for very easy cleanup and holds it all together. There will not be shell fragments littering your playroom, nor will these canes be difficult to clean. The Sanibel Beach Canes are between 25 and 30 inches long.

Sanibel Island is known as one of the top five beaches in the world for gathering seashells. It is off the coast of Ft Myers, Florida. It has been my beach of choice for many years. These should bring some warmth and sunshine to you!
Sandy Sanibel Beach Cane

Ahh just like a warm day in the sun, on the beach!!
Sandy Sanibel Beach Cane: $95
Simply Smashing Shelly Sanibel Beach Cane


Covered with crushed Sanibel Island seashells.
This will cut skin easily. Butt it is easy to clean!
Simply Smashing Sanibel Beach Cane: $115
Smashingly Shelly Sanibel Beach Cane

This more extreme version is covered with larger broken Sanibel Island seashell shards and will cut skin very easily. It is very easy to clean.
Set of three Sanibel Beach Canes: $315.
---
---
Gorgeous Green Malachite!




This is a spectacular cane designed with some of the nicest malachite gemstones I've ever seen. In case that isn't enough, there is are many sterling silver accents and it is topped with SEVEN wartenburg pinwheels. Yes, they are sharp and they spin. What fun!






A

ll of the richly shaded green malachite stones on this cane have beautiful lines/swirls/patterns. I selected each because of its beauty and the interesting lines. The seven bands of gleaming sterling silver swirl down this cane's handle and come together in the center with a sterling BDSM symbol.
The upper left photo shows the stones just below the main gemstone. On the right are the stones and silver that make up the thumb rest.


Sharp Malachite Cane: $335
---
---
Malachite

The vibrant emerald green hues of this Malachite gemstone, combined with the sparkling rainbow and light-casting Swarovski Crystal, all atop a 9.5mm cane will make this a stinging, burning rattan disciplinary cane not to be forgotten.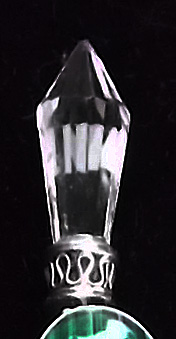 This 33" long rattan cane is topped by a 1"x1/2" Swarovski Crystal Prism, set in a very decorative hand made sterling silver basket. The cane's malachite gemstone is a very rich, vibrant green with pronounced lines and shading that make this malachite stone spectacular and unique. It is set in highly polished sterling silver.



There is more sterling silver accenting the base of the stone, and winding down the handle, which has a 1/4" collar at its base.

---
---
---