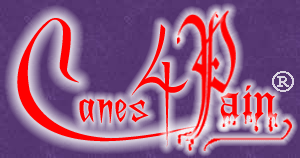 by WhypDancer

---
Crown Jewels Collection
Functional Elegance...
backed by a lifetime guarantee!
The canes on this page are perfect for a God, Goddess, or someone you really appreciate-- whether that is you or... ? For gifts, or for those that deserve only the VERY finest, this is THE place to look.
ALL Canes4pain.com rattan canes hold a lifetime guarantee against breakage. Payment is welcome from any credit card, and we offer rapid, efficient worldwide shipping. Our shopping cart is SSL encrypted for your security.

---
Important- for Lovers of Crown Jewels Canes
If you would like a custom cane later in 2013 or 2014, please contact me about it *now*. I love making your cane dreams come true! The start of the process happens now. Please contact me by phone: 239-321-9823 or by email: WhypDancer@aol.com or WhypDancer@Canes4pain.com
---
**Now available for shipping worldwide**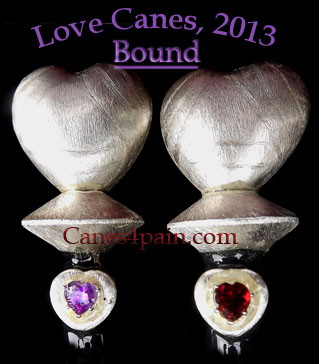 BOUND
From Canes4pain.com, a very special limited edition of ten exquisite rattan canes. Beautifully designed, they are guaranteed to heat up Valentines Day around the world!
Carefully chosen to ensure a well-balanced feel in the user's hand, each length of rattan has perfect accuracy in flight. On the recipient's end-- a fine combination of sting & burn that only the very finest rattan can impart. These are made to scream through the air, not sit on a shelf looking pretty.
Poetry in motion!



Accented with beautifully cut & faceted heart-shaped gemstones in your choice of dried blood-red Garnet, or violet Amethyst. These are fine jewelry-quality gems.

Rear view of BOUND, showing the hand-brushed texture
of the hearts and pattern on the top heart.

Heart pattern at base of handle
where it joins the rest of the cane. Magnified to show detail.
Hearts are approximately 1/4", pure silver.




Above, detail of brushed silver heart that is behind the gemstone pieces.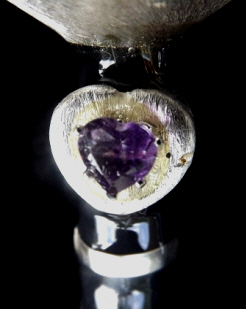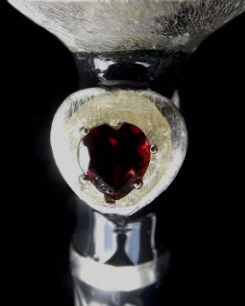 Each cane has three sterling silver wires swirling from the top to the handle's base.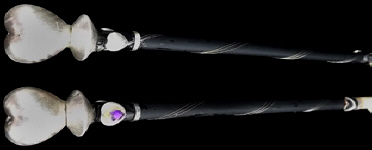 When ordering, please select gemstone AND thickness below.

**Fans outside the US, you will be contacted for shipping preference. Please watch for this important email**

---
Sanibel Beach Canes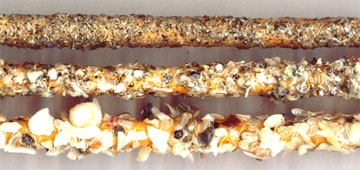 There are three styles, shown in the photos here. The first is a dense, 9mm rattan cane covered in sand. The next is covered in small shell fragments. The third version is covered in more coarse, sharp shell fragments. The latter two will break skin easily. You've been warned. They are all thuddy, but sharp. It is an interesting sensation.
All are covered with a clear protective coating that allows for very easy cleanup and holds it all together. There will not be shell fragments littering your playroom, nor will these canes be difficult to clean. The Sanibel Beach Canes are between 25 and 30 inches long.
Sanibel Island is known as one of the top five beaches in the world for gathering seashells. It is off the coast of Ft Myers, Florida. It has been my beach of choice for many years. These should bring some warmth and sunshine to you!

Sandy Sanibel Beach Cane





Ahh just like a warm day in the sun, on the beach!!
Simply Smashing Shelly Sanibel Beach Cane



Covered with crushed Sanibel Island seashells.
This will cut skin easily. Butt it is easy to clean!
SALE
: $100
Smashingly Shelly Sanibel Beach Cane


This more extreme version is covered with larger broken Sanibel Island seashell shards and will cut skin very easily. It is very easy to clean.
---
The Lapis Rose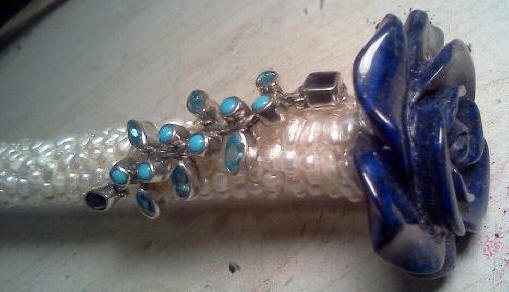 This exquisite cane has a 10" handle covered with hundreds of pearls. It is topped by a 1.5" hand carved lapis lazuli rose. The rose's rich royal blue color is beautifully by two- 2" long arrangements of faceted gemstones- iolite and topaz, and cabochon turquoise stones from the famed Sleeping Beauty mine in Arizona. All set in sterling silver, they are in a leaf & stem arrangement, cascading down from the rose.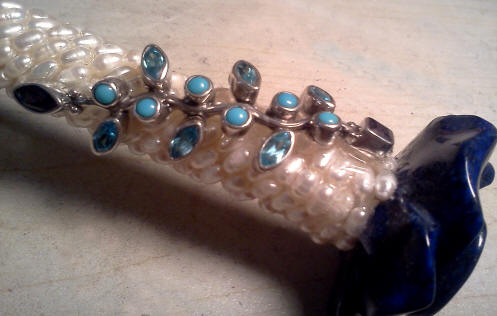 Above, one of the gemstone arrangements.
There are two of these, on either side of the cane.
The Lapis Rose: $445.00



---

Snake Goddess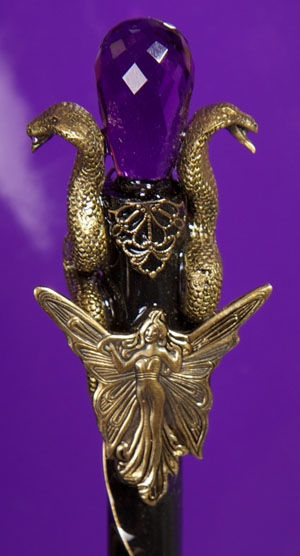 A real attention-getter, this 10mm cane is as wicked as it is beautiful. This Goddess is flanked by two cobras and is topped by a large faceted jewelry-quality faceted amethyst gemstones.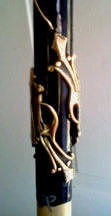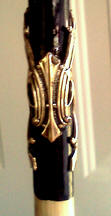 Very decorative bronze thumb rest
.

Snake Goddess: $235
---
---
---
Blood Dragon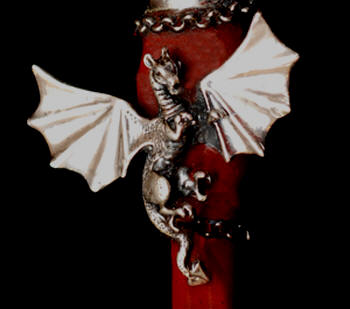 One of a kind design featuring the signature Canes4pain Sterling Silver Dragon, a large spike on the top of each, black chain accents and hand made thumb rests. It is all set off magnificently on this extra-long, perfectly balanced, rich burgundy handle.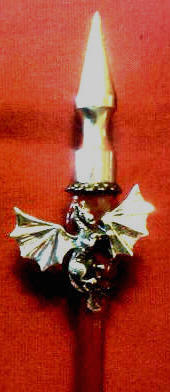 The Sterling Silver Dragons and spikes at the top of these canes gives a very nice counter-balanced effect. The balance point is about at the midpoint of each handle. They are straight and will be extremely accurate and capable of raising blistering welts and making stripes as intense as desired.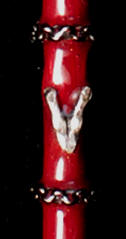 Sterling Silver hand crafted thumb rests on each cane.
Width

: 9mm.
Length

: 34"
Handle

: Rich burgundy color, 11.5" long, NOT including spike.
Dragon

: Sterling silver Canes4pain signature dragon with a 2" wingspan. They are 1.5" tall and the wings can be sharpened to a knife edge.
Top Spikes

: A spike tops each handle. 9mm cane's spike is 2.5" tall.

The handles of both match perfectly, as seen in this photo.
---
LOVE CANES
From the Heart
The Gift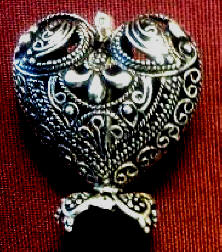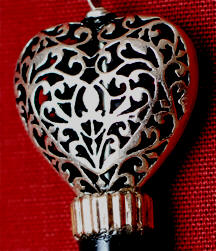 About both designs

:

All rattan for these canes was chosen for its exquisite balance, flexibility and ability to accurately lay down stripes as dark as intended, with a breathtaking combo of sting and burn. I guarantee these to be magnificent in flight.

Both hearts that sit atop these canes are 1"x1" and 1/2" wide front to back. They have an open design, so you see all of their beautiful details.
Each cane has a claddagh featuring two sterling silver hands clasping a
heart
, which is topped by a pure silver
crown
. The claddagh's heart represents
love
, the hands
friendship
, and the crown,
loyalty
.

These will make a perfect gift for a friend, love, or yourself.

The Gift
The Gift design is a VERY limited edition of eight canes total, with only two canes available in each of the four gemstone colors. There is Garnet (the color of dried blood), Amethyst (lavender), Mystic Topaz (diamond-like with accents of blue, purple, yellow), and two with sterling silver hearts. Each is made into a claddagh.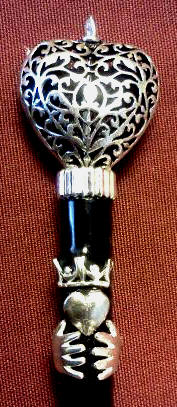 Handle

: 8-9 Inches long
Thickness: 9mm that will easily raise welts & stripes


Length

: Approximately 34"


Flexibility

: Moderately flexible. VERY accurate.

The photo below shows The Gift Canes' thumbrest at the base of each handle. It is shaped like a silver gift box that is 1/2" wide & tall. It looks very much like a "Gift"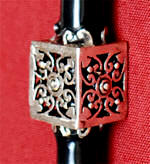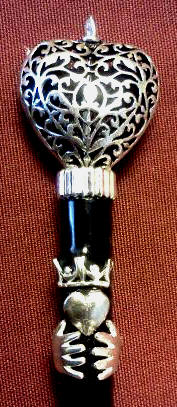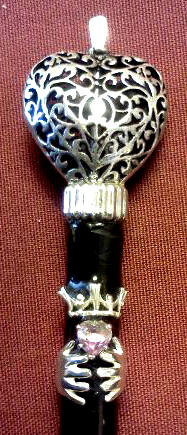 Below are the gemstone styles. The gems are MUCH more beautiful than these photos show. The recipient will NOT be disappointed!




From left, are the sterling silver heart, amethyst, mystic topaz, and garnet. All except the sterling heart are 1/4 to 1/3 carat faceted heart-shaped gemstones.
************************
***********************
---

From the Heart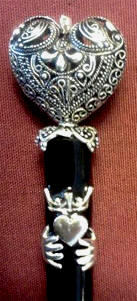 This very limited edition LOVE CANE design has a "lacy" looking heart at the top, a Claddaugh under it, and a lovely heart-shaped thumb rest at the base of the handle. All are set upon a smooth, glossy 8" long handle. This is a VERY limited edition of ten. "From the Heart" Canes are made of 10.5mm for a ton of classic cane sting/burn and exquisite welting and marking capabilities. All are very straight, accurate and guaranteed to please!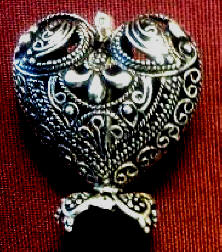 The cane's top heart is one inch by one inch.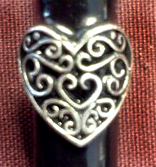 This shows the detailed heart-shaped thumb rest.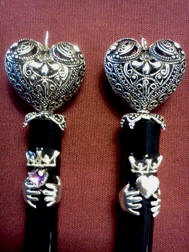 The upper third of an amethyst cane handle, and one with a sterling silver heart claddagh.
Handle

: 8-9 Inches long
Thickness: 10.5mm that will easily raise welts & stripes
Length: Approximately 34"
Flexibility: Moderately flexible. VERY accurate and easy to use.
---

Email WhypDancer@Canes4pain.com to be notified of new cane selections!
---
Gift Certificates are available!!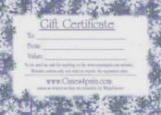 The Canes4pain® gift certificates have a lovely silvery metallic design, and are available on the Specials page of the our website.
---
---
Questions? Contact me at WhypDancer@canes4pain.com
Questions? Contact me at WhypDancer@canes4pain.com
or by phone at 239-321-9823 Be sure to leave a message with your callback number & best time to call if I don't answer.