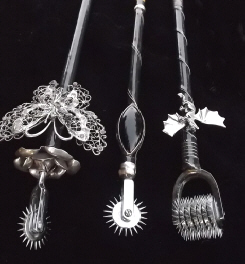 ---
Gift Certificates are available!!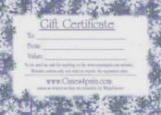 The Canes4pain® gift certificates have a lovely silvery metallic design, and are available on the
Specials
page of the our website.
---
---
The Moonstone Canes
Here are two moonstone canes. Each cane's stones were chosen for their beauty. Each has a spectacular blue glow, which is evident when their angle to the light changes. (It is called "schiller effect") All stones are set in sterling silver that is polished to a mirrored finish. I'm sure the new owners of these canes will be pleased.
Moonstone Box

This 33 inch long cane is a powerful 10.25mm thick. The rattan used for it is weighty and its impact will not be missed.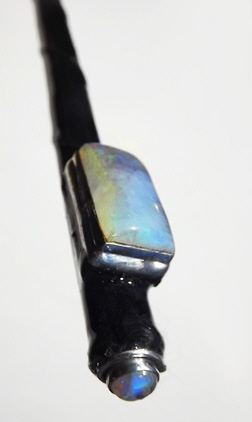 The 9.5" long handle is designed with a 1/2"x1" rectangular Rainbow Moonstone gem that is set in shiny sterling silver. There is a 1/4" round Moonstone at the top, also set in sterling silver. The two gemstones compliment each other perfectly, showing the same shades of blue when turned toward & away from light. Their sterling settings also match, as does the collar-like thumb rest at the base of the handle. Nobody will be disappointed with this cane!


----------------------------------------------
---------------------------------------------
Oval Moonstone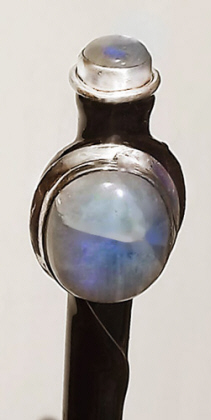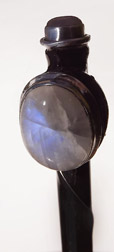 ---
Black & Blue!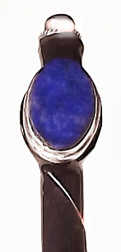 This 33" long cane is 9mm thick, to give the classic sting/burn that these fine rattan disciplinary canes can impart.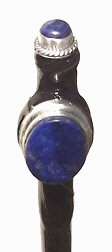 This cane is designed around a richly colored azure blue Lapis Lazuli oval-shaped gemstone. It is set in glossy sterling silver, and topped by a smaller Lapis stone of the same color, in a decorative sterling setting.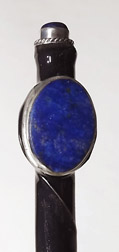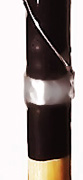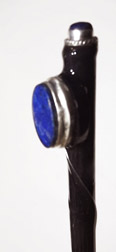 The larger stone on this cane measures 3/4"x1/2" and the top stone is 1/3" round. There are polished sterling silver accents winding up the handle, and at the thumb rest at the handle's base.

---
---
Tigers Eye Canes
All of the stones on the Tigers Eye Canes were selected for their rich, natural beauty and the amount of schiller they have. Schiller is a delightful effect that shows a 3-D effect as the colors and patterns of the stone shift when its angle to the light changes.

Tigers Eye Oval Cane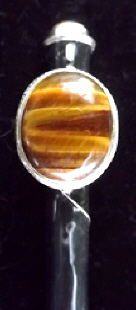 This thirty-two inch long cane features a 3/4"x1" beautiful Tigers Eye gemstone. It is topped by a smaller but just as beautiful 1/4" stone. Both are set in highly polished sterling silver. This cane is 10mm thick, for a great deal of impact on impact. Like all Crown Jewels Collection Canes, it will be intense when used at a "proper" velocity.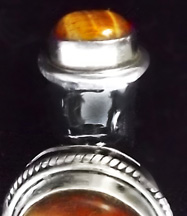 Detail of sterling silver settings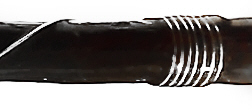 Detail of sterling silver thumb rest

There are shiny sterling silver accents winding down the handle, terminating at the base of the 8.75" long handle, as shown above. These all combine to give a sure, comfortable grip.

-------------------------------
--------------------------------
Tigers Eye Swirl



This 31" long rattan cane has a very attractive selection of Tigers Eye gemstones decorating the 8.75" long handle. The main stone is a tear drop shaped Tigers Eye that measures 1"x3/4". It is accented by another tear drop that is 3/8"x1/4". Both are set in matching styled sterling silver settings.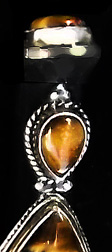 There are approximately 100 Tigers Eye stones winding their way down the handle to the 1/4" sterling silver thumb rest at its base. This cane is topped by an oval 3/8"x1/4" stone set in shining silver. This cane is 9mm thick for a fine degree of sting/burn. I'm sure its new owner will be very pleased with its beauty AND performance.

---
---
Ooooh! Shiny! Druzy!

Druzy is the inside of a geode. They are formed by volcanic activity.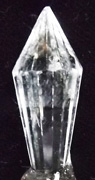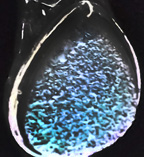 The beautiful 3/4"x1/2" stone is coated in titanium, which gives it a purple/turquoise/blue green color change effect. It is much more beautiful than these photos show.
This fine rattan cane is 31" long and just under 9mm thick, for a sting/burn that will be memorable. The cane's handle is 9.25" long, and has 1/4" sterling silver collars at the top & bottom. There is more sterling silver winding its way down the handle to provide a sure grip, and even more as a support for the 1"x3/4" Swarovski Crystal Prism at the top of the cane. This will cast rainbows when ever direct light hits it. This cane will get a LOT of attention wherever it goes.

---
---
Malachite



The vibrant emerald green hues of this Malachite gemstone, combined with the sparkling rainbow and light-casting Swarovski Crystal, all atop a 9.5mm cane will make this a stinging, burning rattan disciplinary cane not to be forgotten.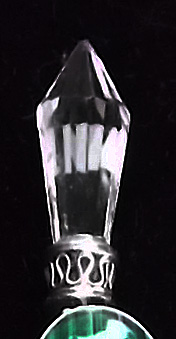 This 33" long rattan cane is topped by a 1"x1/2" Swarovski Crystal Prism, set in a very decorative hand made sterling silver basket. The cane's malachite gemstone is a very rich, vibrant green with pronounced lines and shading that make this malachite stone spectacular and unique. It is set in highly polished sterling silver.



There is more sterling silver accenting the base of the stone, and winding down the handle, which has a 1/4" collar at its base.

---
---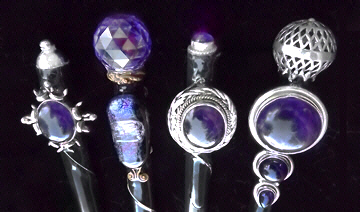 -- - - - - - - - - - - - --
Amethyst Point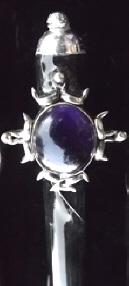 This lovely 10.5mm thick, 36" long rattan cane is designed with a lot of gleaming sterling silver, and a rich purple amethyst gemstone set in a unique sterling setting.
The stone on this cane is 3/4"x1/2", with a rich, deep purple color. The sterling silver setting for it measures 1"x1 1/8" at its widest points.





There is a 1/3" tall sterling silver cap at the top of the handle, and more sterling winding its way down the handle, to form a ridged, zigzag pattern at the base of the 8" handle.

- - - - - - - - - - - - - - -
- - - - - - - - - - - - - - -
Amethyst Braid Cane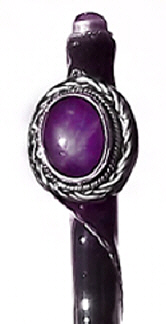 The 8.5" handle of this 31" long cane is accented by a 3/4"x1/2" richly colored amethyst gemstone, set in a wide, very decorative sterling silver setting. The setting measures 1" round.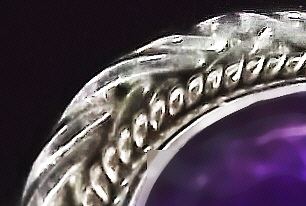 Magnified detail of amethyst gemstone's sterling silver setting.
There are 1/4" amethyst stones in decorative settings at the base of the handle at the very top of this cane. There is twisted sterling silver wrapping on the handle to ensure a good grip.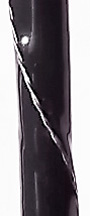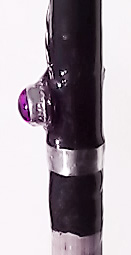 As wicked as it is beautiful, by Canes4pain!

- - - - -- - -- - -- - -- - -- -
Very Violet Cane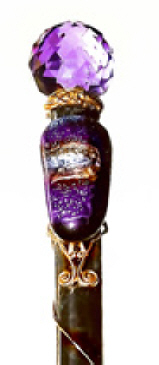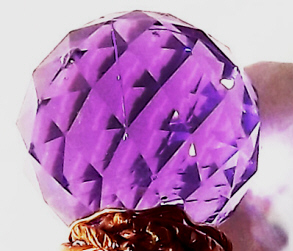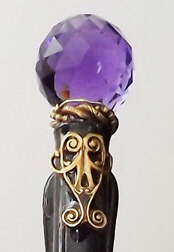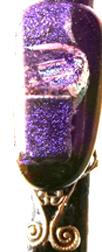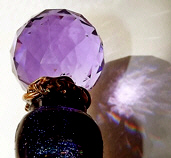 ---
---
Amethyst Ball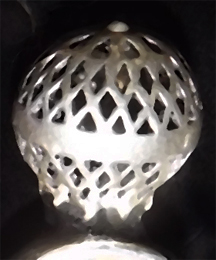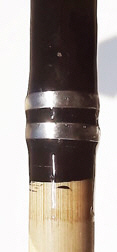 \

---
---
Malachite

Rich green malachite, sterling silver and rutilated quartz against the glossy black of this cane's handle all combine to make this a very striking piece.


This 10.5mm thick very dense rattan cane will definitely leave its mark.
It has a sealed, glossy black finish that extends the whole way from top to striking tip, for an easy to clean surface. The main stone on this cane is a round one inch malachite in a highly decorative sterling silver bezel. The stone under it is an oval shaped 1/4"x3/8" malachite.


This cane is topped by a beautiful 2.5" rutilated quartz crystal. The crystal varies from 1/2" at the base to 7/8" at its widest point near the top. It has very interesting and beautiful textures inside as well as fine golden colored threads of the mineral rutile. It is a very beautiful top piece that gives this cane a very nice balance.


The strikingly beautiful quartz stone is set in the richly patterned hollow silver ball shown above. It measures one inch across.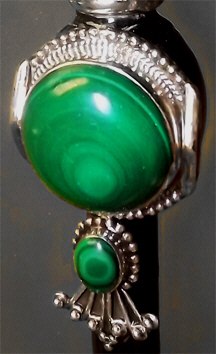 The decorations on this cane are only on the top 5.5 inches (including the 2.5" stone), leaving the rest of the cane for the new owner to have a nice, sure grip.
---
---
---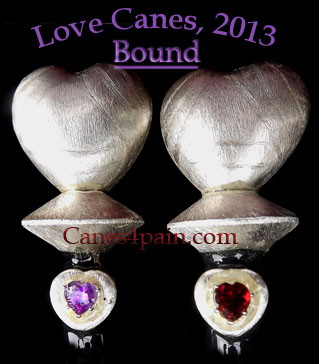 BOUND
From Canes4pain.com, a very special limited edition of ten exquisite rattan canes.
Carefully chosen to ensure a well-balanced feel in the user's hand, each length of rattan has perfect accuracy in flight. On the recipient's end-- a fine combination of sting & burn that only the very finest rattan can impart. These are made to sc ream through the air, not sit on a shelf looking pretty.
Poetry in motion!



Accented with beautifully cut & faceted heart-shaped gemstones in your choice of dried blood-red Garnet, or violet Amethyst. These are fine jewelry-quality gems.

Rear view of BOUND, showing the hand-brushed texture
of the hearts and pattern on the top heart.

Heart pattern at base of handle
where it joins the rest of the cane. Magnified to show detail.
Hearts are approximately 1/4", pure silver.



Each cane has three sterling silver wires swirling from the top to the handle's base.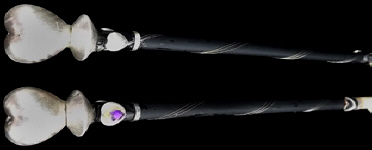 When ordering, please select gemstone AND thickness below.
---
Sanibel Beach Canes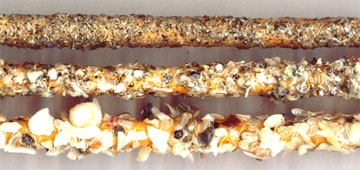 There are three styles, shown in the photos here. The first is a dense, 9mm rattan cane covered in sand. The next is covered in small shell fragments. The third version is covered in more coarse, sharp shell fragments. The latter two will break skin easily. You've been warned. They are all thuddy, but sharp. It is an interesting sensation.
All are covered with a clear protective coating that allows for very easy cleanup and holds it all together. There will not be shell fragments littering your playroom, nor will these canes be difficult to clean. The Sanibel Beach Canes are between 25 and 30 inches long.
Sanibel Island is known as one of the top five beaches in the world for gathering seashells. It is off the coast of Ft Myers, Florida. It has been my beach of choice for many years. These should bring some warmth and sunshine to you!
Sandy Sanibel Beach Cane


Ahh just like a warm day in the sun, on the beach!!
Simply Smashing Shelly Sanibel Beach Cane

Covered with crushed Sanibel Island seashells.
This will cut skin easily. Butt it is easy to clean!
Smashingly Shelly Sanibel Beach Cane


This more extreme version is covered with larger broken Sanibel Island seashell shards and will cut skin very easily. It is very easy to clean.
---