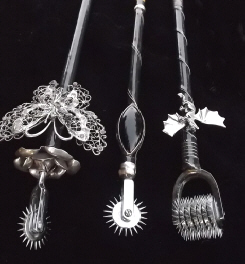 ---
Gift Certificates are available!!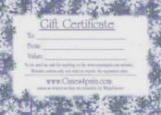 The Canes4pain® gift certificates have a lovely silvery metallic design, and are available on the
Specials
page of the our website.
---
---
Sanibel Beach Canes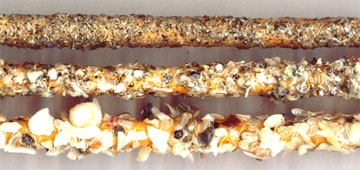 Canes4pain's Sanibel Beach Canes are built on a 9mm aluminum core. Each is 30" long. I am working on new photos for these, as of June 2, 2014. Have have a thicker, nicer layer of shell fragments than is shown above.

The first cane is covered in sand. The next is covered in small shell fragments. The third version is covered in more coarse, sharp shell fragments. The latter two will break skin easily. You've been warned. They are all thuddy, but sharp. It is an interesting sensation.

All are covered with a clear protective coating that allows for very easy cleanup and holds it all together. There will not be shell fragments littering your playroom, nor will these canes be difficult to clean. The Sanibel Beach Canes are between 25 and 30 inches long.

Sanibel Island is known as one of the top five beaches in the world for gathering seashells. It is off the coast of Ft Myers, Florida. It has been my beach of choice for many years. These should bring some warmth and sunshine to you!

Sandy Sanibel Beach Cane





Ahh just like a warm day in the sun, on the beach!! Sandy Sanibel Beach Cane: $95

Simply Smashing Shelly Sanibel Beach Cane



Covered with crushed Sanibel Island seashells.
This will cut skin easily. Butt it is easy to clean! Simply Smashing Sanibel Beach Cane: $115
Smashingly Shelly Sanibel Beach Cane





This more extreme version is covered with larger broken Sanibel Island seashell shards and will cut skin very easily. It is very easy to clean.

---
The Moonstone Canes
Here are two moonstone canes. Each cane's stones were chosen for their beauty. Each has a spectacular blue glow, which is evident when their angle to the light changes. (It is called "schiller effect") All stones are set in sterling silver that is polished to a mirror finish. There is no doubt that the new owners of these canes will be pleased.


This spectacular cane is topped with seven wartenburg pinwheels and a very beautiful moonstone set in ornate sterling silver (see photo below). This spanking cane has a lot of flash and sparkle and will definitely make its mark in somebody's life.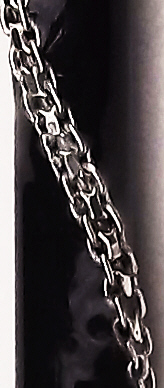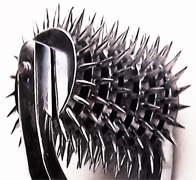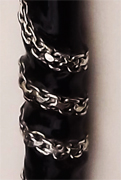 These photos show details of sterling silver trim, wartenburg wheel at top, and thumb rest.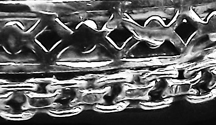 Detail of gemstone's ornate sterling silver setting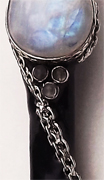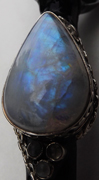 There is a lot of blue in this stone.
It shimmers and moves when the cane's angle to the light changes.

---
Moonstone Box

This 33 inch long cane is a powerful 10.25mm thick. The rattan used for it is weighty and its impact will not be missed.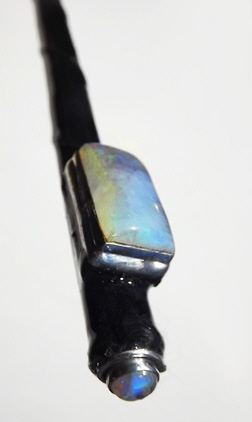 The 9.5" long handle is designed with a 1/2"x1" rectangular Rainbow Moonstone gem that is set in shiny sterling silver. There is a 1/4" round Moonstone at the top, also set in sterling silver. The two gemstones compliment each other perfectly, showing the same shades of blue when turned toward & away from light. Their sterling settings also match, as does the collar-like thumb rest at the base of the handle. Nobody will be disappointed with this cane!


----------------------------------------------
Gorgeous Green Malachite!


This is a spectacular cane designed with some of the nicest malachite gemstones I've ever seen. In case that isn't enough, there is are many sterling silver accents and it is topped with SEVEN wartenburg pinwheels. Yes, they are sharp and they spin. What fun!




All of the richly shaded green malachite stones on this cane have beautiful lines/swirls/patterns. I selected each because of its beauty and the interesting lines. The seven bands of gleaming sterling silver swirl down this cane's handle and come together in the center with a sterling BDSM symbol.
The upper left photo shows the stones just below the main gemstone. On the right are the stones and silver that make up the thumb rest.

This is truly a unique, one of a kind cane that would be perfectly appropriate for a male or female owner.

---
---
Druzy

Druzy is the inside of a geode. They are formed by volcanic activity.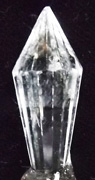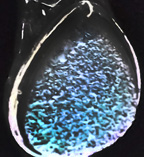 The beautiful 3/4"x1/2" stone is coated in titanium, which gives it a purple/turquoise/blue green color change effect. It is much more beautiful than these photos show.
This fine rattan cane is 31" long and just under 9mm thick, for a sting/burn that will be memorable. The cane's handle is 9.25" long, and has 1/4" sterling silver collars at the top & bottom. There is more sterling silver winding its way down the handle to provide a sure grip, and even more as a support for the 1"x3/4" Swarovski Crystal Prism at the top of the cane. This will cast rainbows when ever direct light hits it. This cane will get a LOT of attention wherever it goes.

---
---
Malachite



The vibrant emerald green hues of this Malachite gemstone, combined with the sparkling rainbow and light-casting Swarovski Crystal, all atop a 9.5mm cane will make this a stinging, burning rattan disciplinary cane not to be forgotten.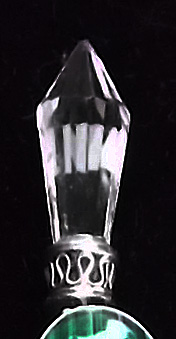 This 33" long rattan cane is topped by a 1"x1/2" Swarovski Crystal Prism, set in a very decorative hand made sterling silver basket. The cane's malachite gemstone is a very rich, vibrant green with pronounced lines and shading that make this malachite stone spectacular and unique. It is set in highly polished sterling silver.



There is more sterling silver accenting the base of the stone, and winding down the handle, which has a 1/4" collar at its base.

---
---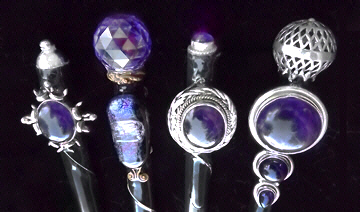 -- - - - - - - - - - - - --
Amethyst Braid Cane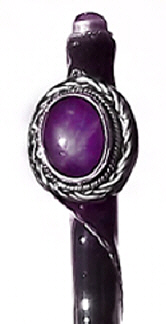 The 8.5" handle of this 31" long cane is accented by a 3/4"x1/2" richly colored amethyst gemstone, set in a wide, very decorative sterling silver setting. The setting measures 1" round.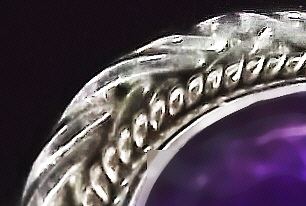 Magnified detail of amethyst gemstone's sterling silver setting.
There are 1/4" amethyst stones in decorative settings at the base of the handle at the very top of this cane. There is twisted sterling silver wrapping on the handle to ensure a good grip.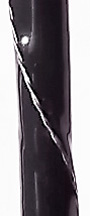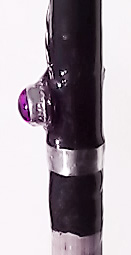 As wicked as it is beautiful, by Canes4pain!

---
---
---