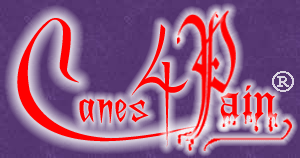 by WhypDancer

---
The Grand Dukes
Thick and Thuddy:
aka Thumper Canes


Yes, canes CAN be thuddy, without sting!
If thud is your thing, these are for you! All are one inch thick rattan. Because of the size, they are not flexible, but have a *wonderful* vibration when struck against each other. The bark of the rattan is left on these, and is in its natural, unsanded state. These have a lot of character... each clearly shows its joints and various textures from when it was growing. If you prefer a smooth, flawless texture, please make another selection.
---
TNT (Thick 'N Thuddy) Thumper Canes. They are all one inch thick, and 28 inches long. There is some variance in the thickness, as they are thicker at one end than the other. They do not have the bark removed. Each has a very interesting and individual surface texture.. basically smooth, but the joints are apparent in the rattan, as are minor imperfections from when they were growing.


TNT Canes, burned with handles

The handles are smooth glossy black, 10-12 inches long.

To order, click the appropriate button:
Bare, unadorned: $45.00
Scorched/burned: $55.00
Scorched/burned, with black handle: $65.00
---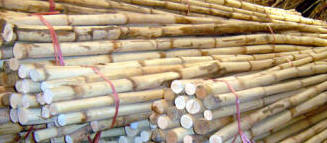 Questions? Contact me at WhypDancer@canes4pain.com